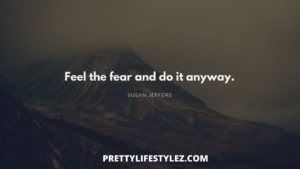 Fear indeed has an element of importance
I won't be wrong if I assume that you can't stop wondering about how fear has an element of Importance. Believe me, Fear is indeed important and if we choose to flashback on our lives, we'll see one or two occasions where fear did help us.
We've already established in the article 10 must know secrets about fear that fear is an emotion. Emotions are feelings which are gotten not from the 5 sense organs but associated with the nervous system.
These emotions can be negative or positive. Whichever it may be, it's as a result of what's going on in our life. Positive emotions are all we need to become a better version of ourselves, while negative emotions goes a long way in reducing our confidence etc. Fear, which happens to be one of those negative emotion is an exception.
Recommended: 4 Must-do away Factors Of Negative Emotions
My thoughts on fear importance
I'll always prefer to see fear as a defence mechanism for the future e.g being scared of an upcoming exam or interview. This fear will make you want to do what's necessary so you can come out victorious at the end of the day.
Using my life as a case study, fear has been a push for me to learn new things and excel in areas I always thought I was far behind. Better put, fear of the future has been the push.
When is fear irrelevant?
Fear happens to be important when there's something you can do to better the situation. When one happens to be scared before an exam i.e fear of failure, fear can be a very good drive to push you to read. However, after the exam, fear is irrelevant. Your fear won't change the outcome of the result. All you need at that point in time is faith. Which I like to call the positive equivalent of fear.
What I'm trying to say is "what you are afraid of is not yet a reality". This fear can only be a driving force when you are still in a position to change that reality. However, if that reality can't be changed by you; being afraid is a waste of time because it won't be channelled to make you productive. This is where you are advised to stick with faith.
Recommended: 3 mind-blowing similarities between faith and fear that people don't know
Fear and pain relationship
Fear happens to be the emotional equivalent of pain. Pain is a sign that you need to withdraw to prevent further damage. For example, is the pain you feel when you place your hand on a hot object that enables you to withdraw it and prevent further damage. Same applies to fear, Fear makes you cautious in whatever you do. A little fear is important to reduce overconfidence.
Must read: why you must avoid overconfidence
Final thoughts on fear importance
Lastly, fear gives a sense of direction. When you are afraid to embark on something, you weigh both outcomes i.e success and failure. in order for you to overcome your fear, you must have seen the joy of success been greater than the grief of failure. This is a sense of direction as to where you are going to.
While I won't advise you completely try to eliminate fear in your life, I'll recommend you learn how to deal with it. This will go a long way in boosting your confidence and also make you see fear as one of those things in life.
Summary
The fact that fear happens to be one of the numerous negative emotions doesn't mean it can't play an important role in someone's life. It gives you a sense of responsibility i.e inducing preparation, reduces overconfidence, gives a sense of direction, to say the least. In our daily lives, I'll advise you also draw positives from other negative situation and emotions. These will go a long way in making you a better person.
Kindly share and leave your comments below
Powerful posts
The 3 kinds Of Intelligence Needed For Overall Success
6 Simple Changes That Will Make Your Brain Work Better
Always remember,