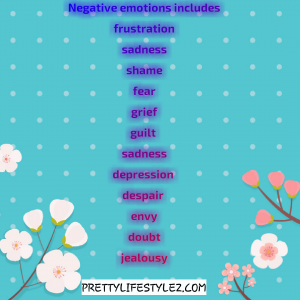 Negative Emotions- Man's worst enemy
Today, we'll be looking at negative emotions which I term  "man's worst enemy" and its factors.
We happen to be all familiar with emotions. It's worthy of note that it can either be positive or negative. Negative emotions are defined as those emotions which makes you miserable and sad.
These emotions appear in my forms such as fear, self-pity, envy, jealousy, feelings of inferiority jealousy, guilt, grief, sadness etc.
It's your worst enemy. Negative emotions have a way of slowing you down on your road to success and even ending your journey if not constrained. There are lots of factors that trigger these negative emotions in us. To deal with the negative emotions, it's wise we deal with these factors.
4 must-do away Factors behind negative emotions
We'll be looking at some of the factors behind negative emotions. However, these factors are more or less related. They include:
justification
rationalization
other people's opinion
blaming
Justification
Justification is providing an explanation or rationale for something to make it seem OK or to prove it is correct or OK. It's more or less giving excuses for your present predicament or situation. This help catalyze the negative emotions like anger. However, ignoring the reasons behind it and saying "well, it has happened" will go a long way in inhibiting negative emotions. Avoiding this factor of negative emotion will go a long way in doing more good than harm.
Rationalization
Rationalization is similar to justification. Often, it's referred to as a defence mechanism is psychology and logic. Here, one tends to defend his/her self until they give others no doubt that their negative emotions are justified. It's a factor of negative emotion that one must avoid.
Other people opinion
Believe me, if you want to be consumed by negative emotions, let it be on your accord. Allowing other people opinion to affect how you see yourself is the worst factor of negative emotion. Always see yourself better than how people see you. However, don't shy away from constructive criticism because it helps you improve yourself. In as much you don't shy from it, don't let it get to you. Failure to do so leads to a very high self destruct negative emotion called inferiority complex. It's a factor of negative emotion that's very hard to deal with, so avoid it. Always remember, YOU ARE UNIQUE
Be who you are and say what you feel, because those who mind don't matter and those who matter don't mind.— Dr Seuss
Blaming
This is an act of declaring that someone is responsible or behind your predicament. It's a show of weakness because it's simply not taking responsibilities for your life; rather, shifting it. If you always see your self as the cause, you'll always believe you are the solution. so, avoid this factor of negative emotion.
People who blame things rarely change things. Blame is an unassailable change
  Summary
Negative emotions are any emotions that do little or no good for your happiness and joy. Fighting it has to come from the grassroots, That's why we went on to look at the major factors behind it. These factors include justification, rationalization, other people's opinion and blaming. Excluding other people's opinion, the other factors are seen as an act of playing the victim. The solution to this is you taking responsibilities of all the activities in your life. Letting other people negative opinions about you get to you will cause the most harm amongst them. Always see yourself as special and nothing less no matter the things you've done.
Dealing with all this aforementioned factor behind negative emotion will go a long way in your quest to get rid of negative emotions in one's life.
Kindly leave your contribution and questions below and share to family and friends.
Related posts
5 spicy ingredients of happiness
8 simple yet effectual ways to stop worrying
5 Critical Reasons Why People Run Away From Love and How To Overcome It