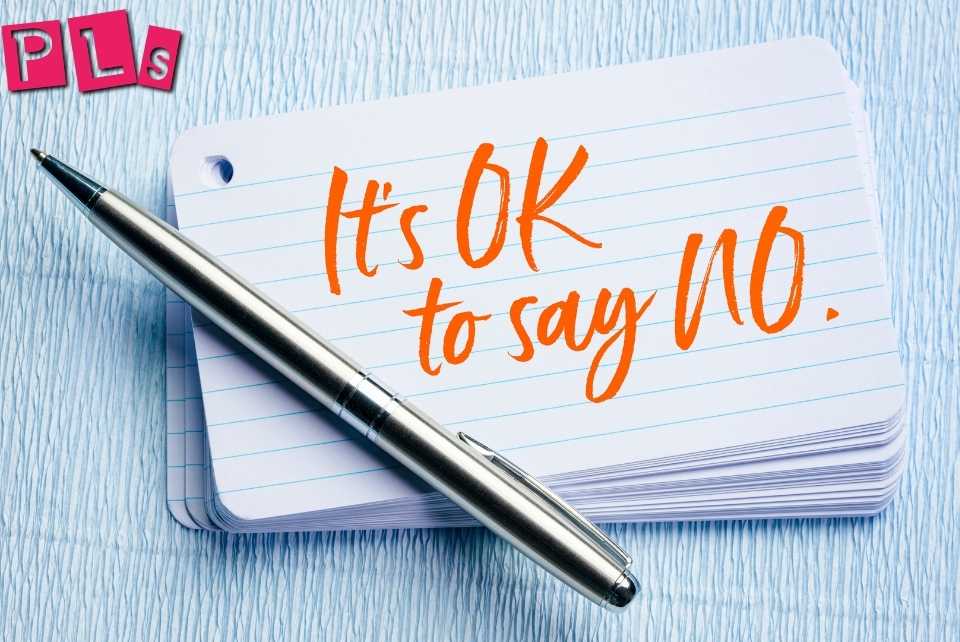 Saying no has to be one of the most difficult things to do. Why is it so difficult to say no?
Most times, a lot of people know what they want and what they can do, allow or tolerate. They know they should be saying no but somehow they end up saying yes or agreeing to what they don't want.
People would rather miss a meeting than attending because they might accept a new role they know they can't say no to. A lot of people are so busy but not really for themselves.
Saying no isn't just to people. You can also say no to yourself, ideas, events, and invitations that aren't in line with your desires, values, or plans for yourself at the moment.
It is ok to help people or want to please them sometimes. But if agreeing to help is going to take a toll on you either physically, mentally, emotionally or financially, you should have a rethink and know what you're agreeing to.
When it's not something you can handle at the moment, you need to say no. For a lot of people, saying no is always difficult. They believe it's easier to say yes and deal with the consequences later because they don't want to face the awkward tension of saying no.
But not everyone will make a fuss when you politely say no. Some people will understand. Others might not. But you shouldn't be compelled to agree to what you obviously can't handle because you're afraid.
Sooner or later, you might not be able to go about your life if it's choked up. Another important reason you should learn to say no is because it helps to create a healthy boundary for you.
People will learn to respect your boundaries and know the limit to what they can do, say or ask for. Keeping healthy boundaries is one way to sustain healthy relationships with others.
If saying no is important and helpful, why is it so difficult for you to say no?
Here are a few reasons people find it difficult to say no.
5 REASONS WHY PEOPLE FIND IT DIFFICULT TO SAY NO
Fear
Fear is a major reason people find it difficult to say no. A lot of times, people don't even realize that they are afraid. They become so nervous and anxious that it becomes difficult to articulate what they want.
It is more difficult to say no when you're afraid. You don't want to hurt anybody's feelings, so you're afraid of going against their wishes. Fear of the unknown can also be it. Being constantly scared of what might happen if you say no.
It might be that the person asking has a level of power or authority over you and to avoid being on the wrong side of the line, you want to go the extra mile in pleasing them. People can be afraid for different reasons. Fear hinders you from saying no.
Sense of respect
Another reason people find it difficult to say no might be that they have a sense of respect towards the person asking. They may be older colleagues, elders, bosses, someone in a place of authority, mentor, friends, etc
People think that saying no to these people is disrespectful and they end up doing things against their will. It is ok to respect people but it shouldn't come at the price of violation or abuse.
Do not allow people to abuse the influence they have on you because you're eager to please them. Sometimes, it's ok to say no too.
People pleasing
You can't say no when you want to please everybody. When people ask for favours or help, they want you to agree to it. There's a chance they might not be pleased if you say no.
Does this mean you should say yes to everyone because you don't want to hurt their feelings? People pleasing and not wanting to be seen as a "bad" person stops a lot of people from doing what they want for themselves.
It is not just about not wanting to hurt anybody's feelings. It is just that inherent desire to be in everyone's good books even if no one will be hurt if you say no.
Low self-esteem
Thinking lowly of oneself has negative consequences and one of such is not being able to disagree or say no to people or ideas that are not beneficial to you.
Someone with low self-esteem doesn't think of himself as enough. They struggle a lot with their confidence and would do anything to gain approval from other people.
Sometimes, it doesn't matter if it involves agreeing to ideas or activities that are against their values and principles. Until they begin to prioritize themselves and see their worth, people with low self-esteem will find it difficult to say no.
Lack of self-awareness
This is the bedrock of it all. Self-awareness is being knowledgeable and aware of yourself: your strengths and weaknesses and how much you can do at the moment.
It means that a lack of self-awareness makes it difficult for you to know your abilities and what you need to work on. It also limits your perception of situations and you don't have the needed confidence to think differently.
People with no self-awareness will agree to anything and everything without a clear sense of direction. It takes a certain level of self-confidence and awareness to know the things you want in your life and those you do not.
So when people are coming with requests or ideas that aren't aligning with what you want, saying no should be the expected response. But when you barely know yourself, it's difficult to refuse what's not good for you.
CONCLUSION
It is important to know that there is absolutely nothing wrong in saying no or disagreeing with an opinion. Nobody should make you feel guilty for saying no. Saying no doesn't make you less human or less kind. It helps you create healthy boundaries and keeps you from burning out or breaking down due to too much work. You end up having more time for yourself. You have to intentionally learn to say no when it's not something you want or can handle at the moment. Start with the smaller requests. As time goes on, you will become more confident in saying no irrespective of the person involved or what it entails as long as it's not something you want. But don't make it a habit of saying no if it's something you can help with and you can handle. It pays to be kind.
Thanks for reading guys. Kindly leave your comments below and don't forget to share.
Related articles
Is tech the new oil? | 4 Things you should do to keep up
6 ways to be productive every day
HOW CRISIS AFFECTS DECISION MAKING IN ONE'S LIFE
THE STRUGGLES OF AN OVERTHINKING MIND