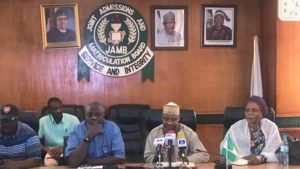 JAMB suspends NIN for UTME, DE registrations
The Joint Admissions and Matriculation Board has finally suspended the use of the National Identification Number(NIN) as a requirement for registration in the 2020 jamb Unified Tertiary Matriculation Examination(UTME)
this has affected direct entry as student rejoiced because the NIN registration was becoming more stressful than expected
REASON WHY JAMB suspends NIN for UTME, DE registrations
The registrar of JAMB, Ishaq Oloyede, who stated this while briefing journalists in Abuja on Saturday, said the move was to provide more time for candidates to get their national identification numbers.
Announcing this at a press conference in Abuja on Saturday, JAMB Registrar, Prof. Ishaq Oloyede attributed the decision to what he called technical reasons.
He told candidates to relieve themselves from the use of NIN for the 2020 registration and strictly comply with other procedures for the registration. He, however, said that JAMB will consider the use of NIMC for the jamb 2021 exams.
prettylifestylez had reported the difficulties faced by candidates in NIN registration including alleged extortion by  National Identity Management Commission officials.
The JAMB spokesman, Dr. Benjamin Fabian had informed our correspondent that examination malpractices syndicates were behind the hitches at the NIN registration centers.
RELATED:
How to Pass Jamb in 2020 without stress
How Can I Correct NIN Name and DOB Error For Jamb