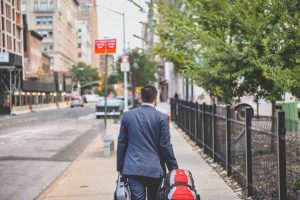 7 things to consider before quitting
After all frustrations, the beating and the pressing. One might see quitting as the best option available. But, don't also forget that a lot of persons have regretted quitting. Quitting can be the best decision you have ever made, but at the same time can also have a more devastating effect than the initial situation.
Of course, as humans, we do not know the result or outcome of our decisions from the present. That is why we have the mind to think and consider. In this article, you will be exposed to 7 factors to consider before you use the exit door to whatever circumstances or situations.
Nobody can decide for you how to live your life. By the time this 8 factors go through your mind and being thought through then you should be sure, you are taking the right step in the right direction.
These steps are written in no particular order.
7 things to consider before quitting
IDENTIFY WHAT IS FRUSTRATING YOU
So many persons have quit their jobs, teams e.t.c out of laziness. and that will always happen when you don't ask yourself what exactly is frustrating you. Sometimes we might mistake laziness for stress. So figure out what exactly is frustrating you then you can decide base on that.
WHAT DO YOU WANT
A very good question to always ask yourself whenever you feel like quitting is, "what do I want". If you can figure out what you want you then know if quitting will get you closer to achieving it. When I ask people what they want I always make sure they include happiness. Because joy and happiness are needed by every human. If quitting would not give you happiness then it's the wrong path to follow. Know what you want, and make sure happiness is involved.
DO YOU HAVE SOMETHING ELSE IN MIND?
What is the next plan? I don't think anyone we want to be stranded at any point in time. So you have to come up with an option. Also, It is not just enough to have a plan. Have you done a thoughtful and realistic plan for the next step you plan to take? You need to spend time on this because it determines how you bounce back.
SPEAK WITH SOMEONE YOU TRUST
Do you feel like quitting? Why not speak with someone else you trust. Sometimes, the point of view of a second party can go a long way in broadening your viewpoint. Life is like a football team, where the coach sees what the players in the field cannot see. So, it is very possible that you are not considering other factors. Which only an outside view can reveal.
ARE YOU THINKING LONG TERM?
Before quitting, why not ask yourself if you are thinking long term. Quite a number of people, make decisions without considering how long the next option will last. Is the next option something that will soon fade away. For example, some business is lucrative only within a limited time and that should be considered before quitting your present job. Some persons especially young people always dwell too much on the present without thinking long-term which is not Good.
KNOW THAT QUITTING MEANS STARTING OVER
You need to understand that quitting is starting over. No matter how similar both (present and intended) scenarios may be. You still need to work hard to have a mark wherever you intend doing. For example, Christiano Ronaldo may be a very great player already, yet he still has a lot to do in Juventus. Just because he is new there.
IS QUITTING THE ONLY OPTION YOU HAVE?
Is quitting the only option you have? You don't have to be too fast to quit. There might be other things to do. Roll the thoughts over your mind with a series of questions and questioning, so you can figure out other options you have.
Conclusion
As a bonus, you have to know that you can't always continue to quit. You can't quit now only for you to quit later. Also, you need to understand that quitters never win and winners never quit. You quit when you can't influence or change the situation. Not when you just feel like it or when you get bored. There is no smooth road to success, you have to understand that before quitting.
I hope I've been able to convince you and not to confuse you that you need to put lots of things into consideration before the thoughts of quitting should cross your mind.
If you've found this article helpful which I know you have, do use the share button. Don't forget to leave your comments below.
Factors hindering people from using their natural intelligence
Don't feed your fears: 6 unprecedented reasons why you should not feed your fear
Boost your productivity with these 6 unique productivity boosters